The new in Myanmar trips
One of our latest additions to our Burma travel itineraries is Loikaw. State Capital Kayah, the smallest state in all Myanmar, Loikaw stands out for ethnic diversity, where tribes like the Kayan welcome us in the small village of Hta Nee Lah in an authentic and genuine way, maintaining their rituals, beliefs and Traditional lifestyle of this rural area of ​​the country.
Other places of interest that we can visit during our stay in Loikaw, such as the Cathedral of Christ the King built in 1939; The Kayah Cultural Museum, where we will learn a little more about the state's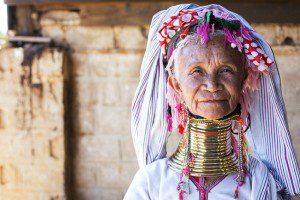 smallcommunities and their cultural traditions; The local Loikaw market full of smells and colors; The Buddhist monastery Thiri Mingalarpon Kyaung, former palace of
the King of Kayah; The Mirador of the 7 lakes to which we will arrive enjoying a route in cart of oxen; The Thiri-Mingalar Taung-kwe Pagoda where we will admire its unique construction.
For your stay in Loikaw, we highlight the Hotel Kayah Resort, a cozy 4 star accommodation with all kinds of amenities for travelers who want to include this extension to their itinerary of travel through Myanmar.